Baltic Pines™ Gemstone & Baltic Amber Teething Necklace – Honey Amber & Mixed Gemstones
00921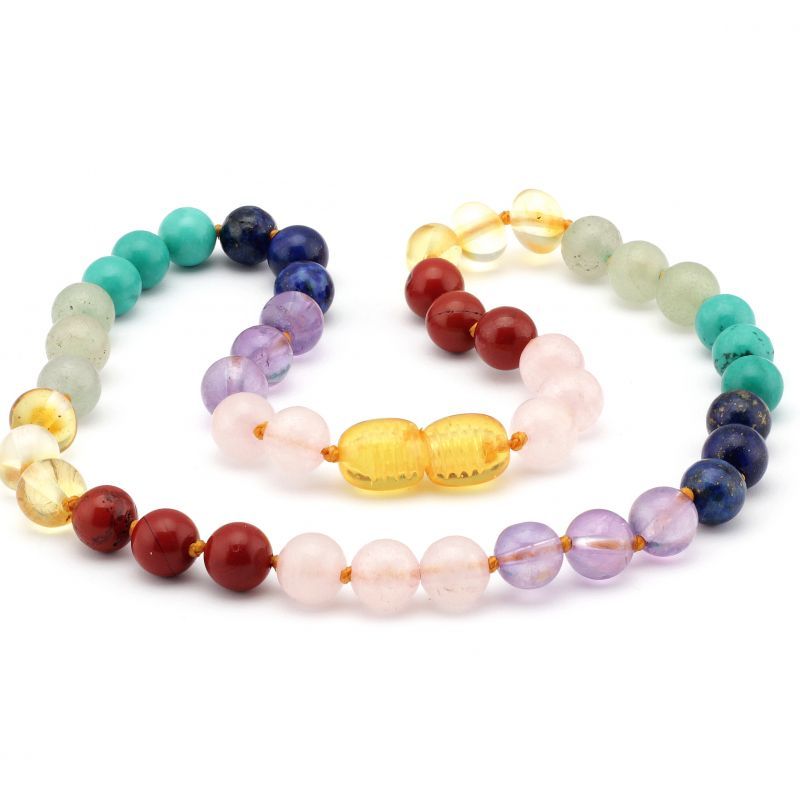 Baltic Amber has been used for thousands of years to naturally treat the pain associated with teething, fever, migraines, arthritis and more.

By using Baltic Pines amber, you can avoid giving costly over the counter pain relief medications that can affect their long term liver health.
Our Baltic Amber is sourced from the Lithuania (Baltic Region) and has been tested and approved by our high standards of safety and quality to insure it's genuine healing properties.
How it works
Natural oils in the amber are released when worn next to warm skin – entering the blood stream just as topical or ingested pain medications would, and rapidly relieve pain.
To prolong the use of your Amber, avoid soaps, direct sunlight, and too much water, all of which will deteriorate the stones by pulling out the natural oils that make Amber so effective.
Safety
Each necklace has a safety release screw. If the necklace is pulled on, the screw will pop out and release.
The thread is knotted between each bead, so should the necklace break, only one bead will be fall.
These necklaces are not for chewing, playing with, or wearing while unattended this includes sleeping time. Be sure to use the appropriate size for the child using it.
Do not drop amber as it can cause the beads to crack.
Sizing
Each Baby- Toddler size necklace measures approximately 12.5″ and fits babies from 3-6 months to preschool.
Fit should be snug and baby should not be able to put the necklace in their mouth, or get an arm through. If this is the case it is too big and should be removed.
Return Policy
Due to the nature of this item, we do not accept returns on our amber. All sales are final, so be sure to ask any questions you may have prior to placing your order.
WHAT OTHERS ARE SAYING ABOUT EASY PEASIES
"I cannot express how much I love this company. They go above and beyond for their customers and I truly felt appreciated as a consumer. Their customer service is absolutely amazing."
"Easy peasies has easily become my favourite diapers. I have tried so many brands over the last two years, I stumbled upon these in the fall and ordered one. Then another. And another. Then their subscription box. They're quickly replacing my other ruffled canadian brand. The colours are vibrant. PUL stretchy. Fleece doesnt get pilly. The fit is amazing. From my 7lb.newborn, to her currently at17lbs /5m and also fits her chunky 38lb 2yr old brother wonderfully!"
"I have been buying from easy peasies for a few months now and am in love with them. The customer service is amazing!!! I actually switched all my diapers over to Easy Peasies as the fit is amazing and I have never had a leak."
"I found this website through a Facebook Ad and clicked on it our of boredom. I am so glad I did. We now own 15 pairs of little sprout pants because they fit my 9 month old crawler and my 2 year old toddler both perfectly. What a genius idea!"