Easy Peasies® The Full Kit™ – 12 One Size Cloth Pocket Diaper + Inserts – Starter Pack Stash
00145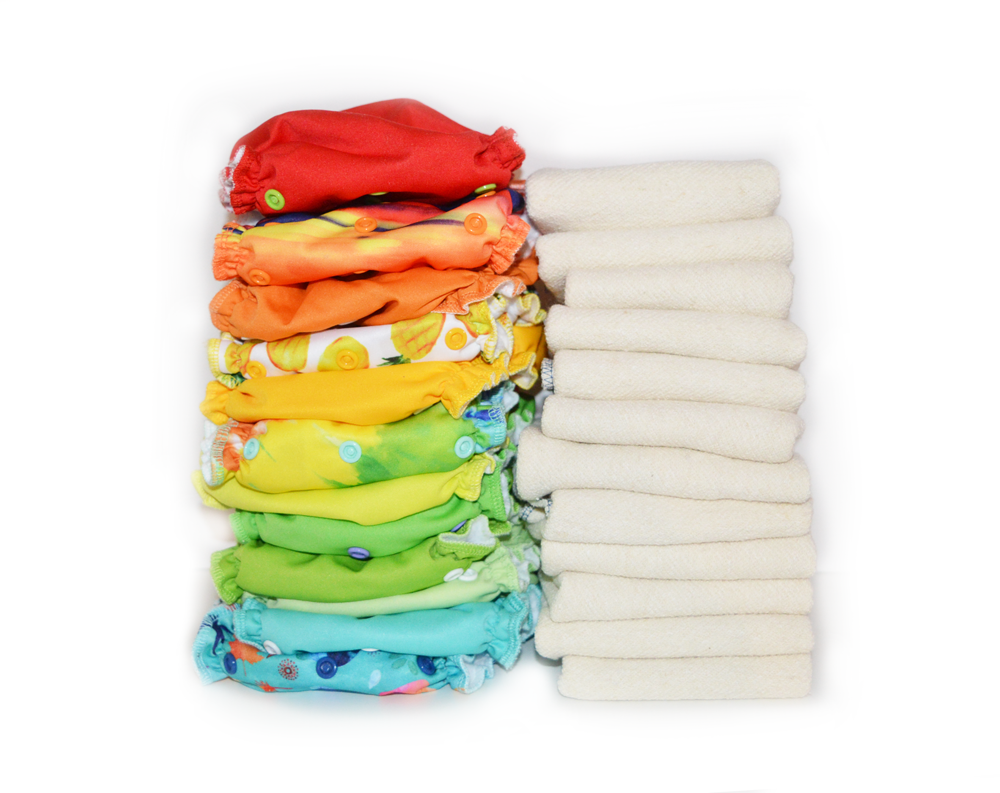 The Full Kit™ is all the diapers you'll need to cloth diaper your baby full time from birth to potty training. 12 One size Easy Pocket ™ diapers, and 12 one size inserts of your choice.
Product Description
Meet the most versatile diaper in our lineup and best selling, Easy Pocket™. The Easy Pocket™ is known and loved for it's perfect fit, soft stretchy fabric, and adorable look.
Designed to give you the best value, the Easy Pocket™ diaper will fit your baby from 6lbs up to 40lbs, and has the warranty to get you there.
Our premium quality fabric stretches and moves with your baby and the gentle elastics won't leave harsh marks on sensitive skin.
We know all babies are built differently, which is why we make our diapers with a double row of snaps on the wings and tummy, allowing you to adjust the tightness to match your baby's shape and size. The contoured shape of the Easy Pocket™ gives your baby a more natural fit, and doesn't add bulk between the legs, making moving, playing, and restful sleeping a breeze.

A waterproof outer shell keeps both baby and caregiver dry, and a soft fleecy inside insures sensitive skin is protected against rash-causing wetness. The inner pocket opening allows for easy stuffing and for inserts to agitate out of most washing machines on their own.
The Easy Pocket™ bamboo bundle includes 1 of our premium imported cotton trifolds.
Inner wetness channels, leg elastics, and a gentle band in the back help keep messes inside where they belong- meaning fewer outfit changes, and less laundry than with disposable diapers*.
Our Easy Pocket™ diapers are designed in Stanley, New Brunswick and Made in Canada by our professional team, using only premium imported as well as domestic materials.

*as reported by parents who've used both
UPC:799888964244
Type:Cloth Diaper Kit
Model:Pocket
Country/Region of Manufacture:Canada
Shipping::Free within Canada
Colors
Neutrals (0) Girls (0) Boys (0)
Options
Bamboo Light (2 Ply Trifolds) (0) Bamboo Supreme (3 Ply Trifolds) (59)
WHAT OTHERS ARE SAYING ABOUT EASY PEASIES
"I cannot express how much I love this company. They go above and beyond for their customers and I truly felt appreciated as a consumer. Their customer service is absolutely amazing."
"Easy peasies has easily become my favourite diapers. I have tried so many brands over the last two years, I stumbled upon these in the fall and ordered one. Then another. And another. Then their subscription box. They're quickly replacing my other ruffled canadian brand. The colours are vibrant. PUL stretchy. Fleece doesnt get pilly. The fit is amazing. From my 7lb.newborn, to her currently at17lbs /5m and also fits her chunky 38lb 2yr old brother wonderfully!"
"I have been buying from easy peasies for a few months now and am in love with them. The customer service is amazing!!! I actually switched all my diapers over to Easy Peasies as the fit is amazing and I have never had a leak."
"I found this website through a Facebook Ad and clicked on it our of boredom. I am so glad I did. We now own 15 pairs of little sprout pants because they fit my 9 month old crawler and my 2 year old toddler both perfectly. What a genius idea!"