Orchid Ready-Use™ / Dry-Nights™ AIO Cloth Diaper – One Size
00600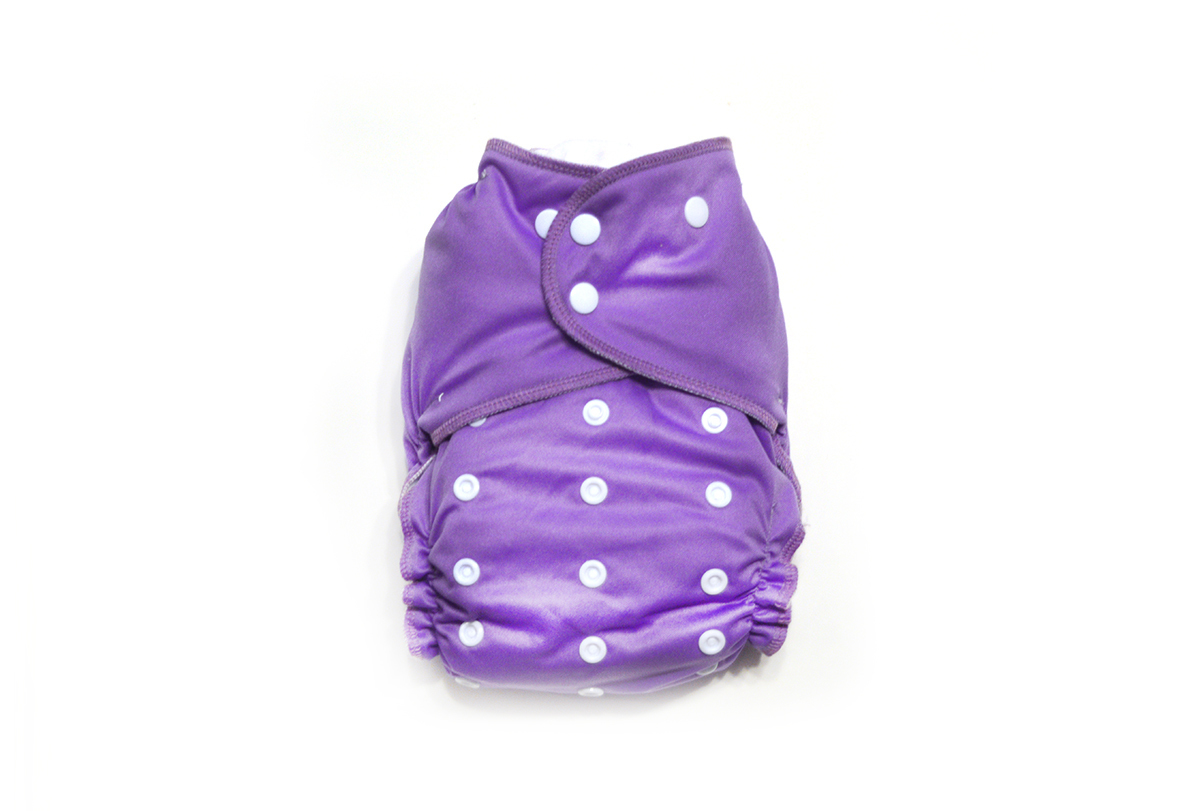 The Ready-Use™ and Dry-Nights™ all in one (AIO) from Easy Peasies® was designed to suit the needs of older babies, toddlers, and overnight use. You can starting using this diaper at around 2 months (or 12 lbs) for optimal fit, and up to 5 years (55 lbs).
With our expandable absorbency system, this cloth diaper allows you to add in or remove the optional snap-in inserts. Without the snap-ins the built in 3-ply hemp core acts as an excellent lightweight wetness protector for potty training that will let your toddler know when they're feeling wet.
The rest of the diaper is lined with the same cozy fleece as our pocket line in both the shell and the gusseted booster, so it will always keep your baby feeling dry and comfortable.
Each diaper has 3 layers of hemp/cotton blended jersey sewn right in and the snap in gusseted booster has 3 layers of bamboo sewn into the bottom. The 3 ply extra long snap-in booster folds lengthwise making 6 layers when folded. Bamboo absorbs quickly and requires limited prepping. All together offering the winning combination of 12 layers of bamboo and hemp wrapped in our famous super-stretchy waterproof PUL fabric.
In the front you will find 3×5 rise snaps giving you added space to boost absorbency or accommodate your growing little.
The waist has 2 rows of 20 snaps and double crossover adjustments to maximum fit duration.
Material:Hemp, Cotton, Bamboo, Polyester
Model:Ready-Use
Country/Region of Manufacture:Canada
Shipping::Free within Canada
Options
Shell only (0) Shell + Fleece Topped Booster (10) Shell + Fleece Booster + Extra Long Booster (20)
WHAT OTHERS ARE SAYING ABOUT EASY PEASIES
"I cannot express how much I love this company. They go above and beyond for their customers and I truly felt appreciated as a consumer. Their customer service is absolutely amazing."
"Easy peasies has easily become my favourite diapers. I have tried so many brands over the last two years, I stumbled upon these in the fall and ordered one. Then another. And another. Then their subscription box. They're quickly replacing my other ruffled canadian brand. The colours are vibrant. PUL stretchy. Fleece doesnt get pilly. The fit is amazing. From my 7lb.newborn, to her currently at17lbs /5m and also fits her chunky 38lb 2yr old brother wonderfully!"
"I have been buying from easy peasies for a few months now and am in love with them. The customer service is amazing!!! I actually switched all my diapers over to Easy Peasies as the fit is amazing and I have never had a leak."
"I found this website through a Facebook Ad and clicked on it our of boredom. I am so glad I did. We now own 15 pairs of little sprout pants because they fit my 9 month old crawler and my 2 year old toddler both perfectly. What a genius idea!"